As the founder and principal of Q4 Energy Solutions, Scott Beckett helps companies achieve their business goals through energy optimization, operational excellence, regulatory compliance and environmental responsibility.
Scott has been in the HVAC industry since he was a teenager when he worked at his dad's small business installing residential HVAC units. He brings decades of forging lasting relationships in a national and global account setting. He couples the people side with a deep technical understanding of mechanical systems across a range of vertical market applications, including the supermarket, grocery and C-store space which is Q4's primary focus. From large HVAC industry leaders to localized small firms, Scott has developed a vast knowledge of client needs and knows how to deliver the answers, products, and services to address them in real world settings.
Based in Columbus, Ohio, Scott also recognizes the community and social responsibilities which successful businesses have, so a portion of Q4's profits go to philanthropy.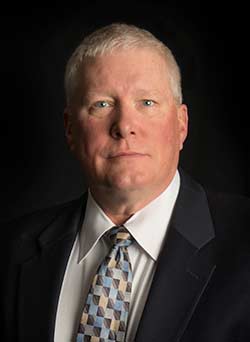 Hi, and welcome to Q4. I'm glad you visited today. My name's Scott Beckett. I'm the president at Q4 and we started this company about 10 years ago after I spent a long-tenured career in corporate America focused on helping people finding ways to creatively solve their mechanical system problems in their facilities.
One of the particular things we notice is that many of the system solutions that were in place at that time, and still today, were all built in silos. HVAC was looked at as a standalone entity, as was refrigeration, and controls, and all the other elements that went together to make up an entire project. Our belief is that in order to get an effective, complex, comprehensive system solution, we need to look at all that together. So it becomes a single seamless system whereby everything interacts with everything else and the whole premise behind Q4 is, "How do we do that?"
The way we've done that is we have created alliance with all of our industry partners whereby we can bring together all of the equipment elements from HVAC to refrigeration to controls to walk-in boxes and put those all in play into a system solution as opposed to a standalone solution as they have so many times been before. And we can save a lot of money, time, and effort when we get all of the right elements into that solution
If you'd like to learn more, please explore this site. We would welcome you to spend time here, or please, you can call us at any time and we'd be happy to take your call and work with you to discuss how we might be able to bring some of our creative mechanical systems and the solutions that we've developed to bear for you in your business today. Thank you very much.
NO Cost, No Obligation Analysis